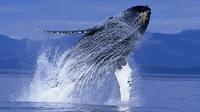 95 €
L'activité n'est pas disponible, essayez une autre recherche !
Whale Watching from Salvador
Enjoy this 4-hour whale watching experience from Salvador.
We meet at 9h00 in Sorveteria da Ribeira ( Famous Ice cream) in the low city
We meet at Sorveteria da Ribeira in the low city where you will have an explanation by a formed biologist aboiut the whales migration.
We board and the captain give eplanation about watching and security..
We travel 4h00 around the bay to watch the whales. 20 000 Whales come from July to November on the Bahia s hot water, to have babys and reproduce. We leave the low city to the open sea to watch this fanastic animal.
We meet at 9am at Sorveteria da Ribeira, famous Ice cream of the low city.

Our guide, formed by the Jubarte Institute, will wait for you to go to our schooner.
Get on boat the Escuna, beautifull traditional wood boat from Bahia.

The captain who is specialized in whale watching (13th season) will give explanations about security rules, some specific for whale watching and then explanations about the Humpback Whale (Magaptera Novaeangliae) that we are going to watch.

We work with Projeto Baleia Jubarte, an organization specialist on whales protection and studies. We help them with photo identification.
More than 20,000 whales come every year to Bahaia coast to have the babies and reproduce, after migrating for about 4000 km from the sub antarctic waters around the South Georgia Islands.

Whale watching is an effective whale conservation tool as it adds an economic value to their preservation.
We pass Barra beach in direction to Itapua or to Cacha Prego, depending of the weather conditions.

During the migration period, we calculated a 85% chance to watch the largest animal on earth. If we do not see any during the tour, we will propose to you to come back another day for free, or 50% back.
On board we will have fruits, water, snacks.
Around 2 pm we will come back to Salvador, harbor.
If we don t watch the whales you will be invited for the next WW.