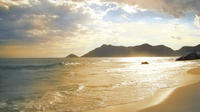 324 €
West Zone Beaches (barra da tijuca grumari and more)
This is an experience that even many Rio locals don't know about. It features less-frequented beaches with exuberant, well-preserved nature. This experience is for those who enjoy sand between their toes, the sun, the sea, and beach-life in general. Different places for different tastes.
Get ready to hear names of places you've never heard of before, even though they are beaches in the city of Rio de Janeiro.  We'll be taking you a little further away from the most familiar areas but it will be well worth it. You'll need to be a fan of the sun, sand, and sea to get the most out of the day. Bring any and all of your beach-ball, beach-tennis set, sarong, bathing costume, towel, and beach chair along with you if you like! The itinerary is as follows: Joatinga (on the border with São Conrado, the last neighbourhood in Zona Sul, and Barra de Tijuca), Pepê, Barra da Tijuca, Praia da Reserva, Recreio dos Bandeirantes, Pontal, Macumba, Prainha, Abricó (a nudist beach!) and Grumari.

We don't stop to go in the water at every single beach, so your Find Your Rio host will help you decide which ones you want to go and bathe in. The beaches are listed above in the order they'll be passed on the way out from Zona Sul. However, this might not be the perfect itinerary for you, so let us help you out! If you prefer urban beaches, with kiosks, music, food, and convenience, let us know. On the other hand, if you want to get to the beach and have barely a soul in sight, that's a possibility too! The important thing is that you are happy and have the day out you want.

For lunch there are A LOT of options. Everything from exclusive restaurants with fresh seafood, to Açai sandwiches (a favourite with the surfers). It's all up to you. The cost of lunch is not included in the price. Weekdays are always quieter with fewer people.