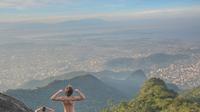 81 €
Waterfalls and Hike in Tijuca National Park with Brazilian Snacks
This Experience brings you into the heart of Rio de Janeiro's Tijuca National Park. You reach the highest point in the metropolitan area, seeing the far expanses of the city, the blessed geography of Rio de Janeiro, as well as the "Finger of God" in the mountain region just north. On the way down, after a stop at the famous Vista Chinesa, you wash off in the secret Rio de Janeiro waterfalls only locals know about! Come get a sweat, enjoy the views, and wash it all away in the waterfalls, can't beat this!
Your small group will meet at 9 am at a centrally located meeting point. The trilingual guide (English, Portuguese, Spanish) will introduce the experience, and get everyone excited for the epic day! Then you hop into a van transport and make your way up into the Tijuca National Park, discussing the history along the way. The first stop comes at the base of the biggest waterfall in all of Rio de Janeiro, which rises 35 meters up and falls right to your feet. 

After you suit up and begin the hike to the Tijuca Peak. The hike lasts around 1 hour and 15 minutes. The trail (medium intensity) winds its way up, never getting too steep. At the top you walk up the carved stairs in the rock, led by a chain to the peak. The views awaiting you are absolutely stunning, so bring a camera. There the group will set up traditional snacks and enjoy the accomplishment of making it to the highest point in the metropolitan area of Rio de Janeiro (1022 meters).

Then you pack up and make your way back down. You hop in the van for a quick ride to the Vista Chinesa, admire the wonderful views and the Chinese history in Rio de Janeiro. After parking down the road, you head back into the rainforest once again, only a 10 minutes hike this time, and arrive at the best waterfall in the area. This full day leaves every visitor and Carioca (Rio de Janeiro resident) alike smiling from ear to ear.