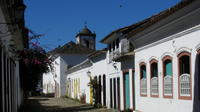 25 €
Walking tour of Paraty Old Town
Find out more about Paraty, a UNESCO nominated World Heritage site, on this fascinating walking tour of the old town. Your state accredited, expert guide will take you back in time to the Portuguese discovery of Brazil and trace the development of Paraty through the sugar, gold and coffee economic booms. Full of insider tips, stories and anecdotes that only a local guide will know, this tour breathes life into the living museum that is Paraty.

Beautiful colonial architecture, street design ahead of its time, Freemasonry, exiled Portuguese royalty and the dark past of the slave trade – these are just some of the ingredients that make up Paraty's rich and colourful history from the past to the present day.
Meet your guide at Chafariz Square at the entrance to the Paraty Historic centre pedestrian zone and then set off on your 2 hour walking tour of the streets of Paraty. On the way to the Main Square the Portuguese Colonial Architecture it feels like you have stepped back in time to the 19th century.

As you wander the streets you will see all the main sites including the Churches (First Church Our Lady of the Remedies, Igreja Nossa Senhora das Dores (Capelinha), Chapel of Saint Rita and the Church of Our Lady of the Rosary and Saint Benedict), the Casa de Cultura, the old jail, former cinemas, the stations of the Cross and many of the old colonial buildings. Your expert local guide will point out the architectural and urban design features that make Paraty such a unique example of Portuguese colonial architecture. There´ll be time to stop at a cachaça store where you can try the local rum which is still made the traditional way. 

At the end of the tour you´ll finish on Rua do Comercio, Paraty´s bustling street of stores, where the past meets the present!