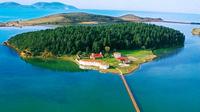 167 €
Vlora and Orikum Full Day Trip from Durres
 Vlora port city, bordered by the Adriatic Sea, is a modern city (it was destroyed by a terrible earthquake in 1851). It is the city where the Albanian independence from the Ottomans was proclaimed on November 28th, 1912. It is ranked as the third largest Albania city with about 190,000 inhabitants and is only 120 km away from Italy.
It was founded in the 6th century BC under the name of Aulona. Roman rule remained Patriarchate of Rome until the 8th century AD and then moved to the Patriarchate of Constantinople. It used to be a colony of the Serbs, Ottomans and Venetians. It was occupied by the Italians from 1914 to 1920 and during the Second World War from 1939 to the famous and tragic September 8, 1943 (armistice). During this war the island of Sazan, located in the Bay of Vlora, became a submarine and naval base for Italians and Germans. Vlora is also the city with the largest number of foreign tourists after Tirana.
Your 9/10-hour tour starts in the morning at the agreed meeting point. Transfer to Vlora (about 2 hours). Before you enter the city there will be a stop to visit the Bizantin Monastery of Zvernec situated in island within the Narta Lagoon. Then, there will be a visit to the city of Vlora in the places of greatest interest, you will visit the place where was Vlore Castle was built in 1531 by Sultan Suleiman to protect Vlore from attack from the army of Venetia, which was destroyed to built the Vlora stadium, the museum of the city and Muradiut Mosque, built in 1542. Kuzum Baba is a natural terrace, located on a hill above the city of Vlore. You leave Vlora to visit another very interesting archaeological site, the Roman excavation of Orikum (Oricum) within the former Albanian naval military base called "Pashaliman" which is now a NATO base immersed in the beautiful lagoon (with document input ID).