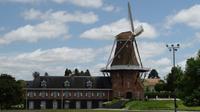 217 €
L'activité n'est pas disponible, essayez une autre recherche !
Vila Velha Park in Porta Grossa and Carambeí Historical Park from Curitiba
Private day tour to visit the beautiful stone formations in Vila Velha Park (Parque Estadual De Vila Velha) and then further to visit two Dutch settlements.
The first will be Castrolanda, where you will have lunch and also visit the biggest windmill outside Holland.
Further visit to Carambeí and its beautiful Historical Park (Parque Historico De Carambeí)
This tour includes Vila Velha State Park (Parque Estadual De Vila Velha) and rich Dutch settlements of Castrolanda and Carambeí.

The landscapes of the region are very beautiful, with rock formations, fields and farms (cattle raising and grains). The park has three main attractions:

Arenitos: The stone formations have curious forms, like a cup, camel, ship, Indian, bottle, among others
Furnas: Big craters with vegetation and water inside
Lagoa Dourada: "Golden Lagoon" has its names as its waters become a golden color by sunset.

Transfer to Castrolanda, a Dutch settlement founded 1951.
Enjoy lunch in a restaurant with typical Dutch ambiance in the greatest wind will outside Holland. The mill is part of the "Immigration Memorial", built 2001 to celebrate the 50th anniversary of the settlement. The mill can be visited from Friday to Sunday.

After lunch, transfer to the town of Carambeí, the first Dutch settlement in the region, founded 1912. The first families settled in the farm Carambehy in order to deliver milk and food to the railroad workers. They founded the cooperative Batavo.
The area is today with Castrolanda the greatest milk producer in Brazil.
Visit to the beautiful Carambeí Historical Park that reproduces the buildings and the life of the first Dutch settlers. At the entrance of the park you will find the "Kaffiehuis", a charming café with delicious cakes and other Dutch specialties.

Return to Curitiba, with arrival between 7:00 and 7:30 pm.