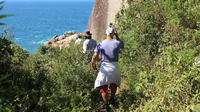 24 €
Tracking with 360 degrees views
Start your day with amazing views of  the all Florianopolis north shore beaches and neighbour island. An easy walk through a clean track to feel the nature, spot sea birds, all year green forest, to end with a deep in the turquoise water of praia Brava.
Great way to contact with nature and enjoy amazing views of beaches, islands, birds and our Atlantic forest .This is a moderate walk with some up hill sections, the trail is well kept clean and safe.

After meeting your guide at the address bellow, you will walk for 30 minutes and will be able to spot the North bay of Florianopolis composed with beaches of: Jurere, Canasvieiras, Cachoeira do Bom Jesus, Ponta das Canas, Lagoinha and the French Island. When you reach the top of the mountain you will see the open ocean and the beaches of Brava, Ingleses, Santinho, Mocambique and the Arvoredo Island. At this moment we take a break have a sip of water and take some time to contemplate what is around you. The way back is down hill all the way to meeting point or to the beach for a deep in the ocean. 
We leave at 9:30 and return at 11:30, bring water, sunscreen, confy clothes and your best smile.

Meeting point: Praia Brava Look out.
Address : Avenida Epitacio Bittencourt, 480, Praia Brava, Florianopolis.

Hotel pick up available upon request, extra cost apply.