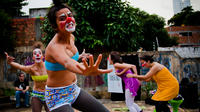 89 €
L'activité n'est pas disponible, essayez une autre recherche !
Tour to Calabar Favela in Salvador
Venture into Calabar, one of Salvador's largest favelas, on this half-day educational tour. Experience the day-to-day lifestyle of locals and learn about different projects that the favela undertakes. With a local expert guide, interact with locals and gain a new understanding of Brazilian society.
Salvador is a city in which historical and contemporary perspectives coexist. It is also marked by a sharp socioeconomic stratification and a legacy of the colonization process. This tour aims to provide an understanding of the social and urban development of the city and an experience of daily life for the majority of the population living in favelas.

You'll visit diverse regions of the city, not just as visitors, but as people who seek to understand the tools that may promote social change. You'll visit the Calabar community, in which a community base security has been recently installed. This program resembles the Police Pacification Units (UPPs) of Rio de Janeiro.

The community Calabar was named after African ethnic groups that had settled in the region as enslaved people who took refuge in Maroon communities. Currently, it is a low-income community, founded the 1960s. As a result of this legacy of resistance, the residents managed to develop projects that aim to bring improvements to the living conditions of its residents through the promotion of access to formal education, and community unity.

On this tour, walk around the neighborhood and visit the community school and daycare, as well as the public health care clinic, the community radio, the carpentry, the community library and the bakery. All these visits are aimed to help visitors understand the transformative potential of social projects in an effort to combat the problems caused by social exclusion and extreme poverty through education.

Please note: we are sensitive to the issues and concerns surrounding favelas, and we understand that this tour may not be suitable for everyone. We strongly believe that the purpose of this tour is for educational reasons alone, which allows for a better understanding of Brazilian life inside a favela.