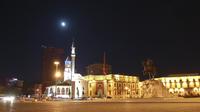 62 €
L'activité n'est pas disponible, essayez une autre recherche !
Tirana Full Day Trip from Durres
Take a full-day tour of bustling Tirana, the capital of Albania where nearly a third of the Albanian population is located. Experience the rich Albanian culture and history during this guided trip through mosques, museums, palaces, and more. Wear comfortable walking shoes and bring your camera for this walking tour showcasing the unique city of Tirana.
After pick-up from your hotel in Durres you will travel to Tirana. There you will visit some famous spots like the Scanderbeg Square, the Mosque of Ethem Bey, and the Clock Tower. You will also be able to check out the National Archeological Museum. At the museum, pull out your camera for a shot of the giant mosaic at the main entrance titled "The Albanians." This mosaic acts as a representation of the Albanian people throughout history.
After touring the museum, get your blood pumping for a walk in the Taiwan Park and Deshmoret e Kombit Boulevard where you can see the Pyramid of Enver Hoxha—which was designed by his daughter and her husband. You will also be able to visit the Enver Hoxha Museum and the Enver Hoxha anti-atomic bunker. 
Explore all Tirana has to offer in this eight-hour guided tour through Albania's history, culture, and artifacts.