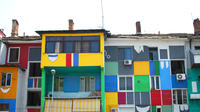 30 €
L'activité n'est pas disponible, essayez une autre recherche !
Tirana Bike Tour
Discover Tirana, the bustling Albanian capital, by bicycle on this entertaining and informative 4-hour guided bike tour. See the main sites of the city, including the National Theater, Skanderbeg Square, the History Museum, the Cultural Palace, Et'hem Bey Mosque, and the clock tower. And get a better sense of Albanian history from the local guide, plus good tips on where to eat and relax while in the city. 
Start your 4-hour bicycle tour of Tirana at Skenderbeg Square in the late morning. Get a brief orientation from the local guide and then hop on the bike, ready to see this fascinating city. Ride around the square, taking in the National Theater, the huge statue of the national hero, Skanerbeg, as well as, the clock tower and the Et'hem Bey Mosque. 

Continue pedaling toward the 'Pedonalja' to see the Castle of Tirana which dates back to the 6th century. During the year gatherings are held in this street with live music and festive visitors drinking beer and snacking on meatballs. 
Ride on, passing by the parliament, the new Mosque of Tirana (one of the biggest in the Balkans), Tanners Bridge, the Pyramid of Tirana, once built as a museum for the Communist-era dictator Enver Hoxha.
Again on the main boulevard of Tirana, stop at the bunker, a remnant from the communist regime, one of 700,000 that were built, and learn more about what Tirana was like during the Communist period which ended in 1991. 

Pedal on to the nearby trendy neighborhood, Blloku, once verboten to everyone but Communist party officials. Today the area is crammed with scene-y bars and clubs. Finish the tour at Mother Tereza Square and then stop into a local restaurant to sip a beer and sample some Albanian edible delights.