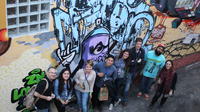 86 €
Taste of São Paulo: Traditional Food and Drinks
The best way to learn Brazil's history is through its food and drink.

Come explore one of the most bohemian neighborhoods in the world as we eat and drink our way to a better understanding of this country and its rich history.

Food, cachaça, beer and interesting stories are included.
The starting point is the Pinheiros Market, where we taste and buy some of Brazil's most exotic fruits. Next, we'll visit the first Brazilian microbrewery, where we will taste some of the best beer in the country and learn about Brazilian folklore.

However, we will not only drink, we will also eat! Our next destination is to try the one of the most famous dishes in the city, the coxinha, a fried pastry stuffed with chicken, a classic São Paulo snack.

Then we will check out one of the coolest art galleries in the area to see the latest trends in the urban art scene.

After a bit of urban art, nothing quite hits the spot like some delicious cheese. We'll make a quick stop at the coolest cheese shop in the country, which should properly whet our palates for something a bit stronger. To really understand Brazilian culture, one must first understand its most famous beverage, cachaça. Therefore, our next destination, will be to in participate a cachaça tasting.

Finally, we will end up in a place where not only will you be able to hear Brazil's most famous music, samba, but you will also learn a few of the dance moves! And while you are swaying your hips back and forth, you'll be able to sip on some of the best caipirinhas in the city.

After the tour, those who want to enjoy the best of São Paulo's nightlife can continue to hang out and impress the locals with their new dance moves.

Note: Our itinerary is subject to last minute changes.
Suggestion for before the tour: Try having lunch at the Pinheiros Market. We recommend Comedoria Gonzales or Restaurante Di Oliva.