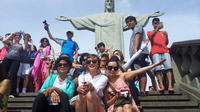 86 €
Small Group Tour in Rio de Janeiro Including Christ the Redeemer, Botanical Gardens and Ipanema Beach
Enjoy a 6-hour small-group tour in Rio de Janeiro. Get the opportunity to know about the history of Christ the Redeemer and admire a stunning view from the top of Corcovado mountain. After that relax walking in the Botanical Gardens created in 1808 by Dom joão VI king of Portugal and then the incredible Ipanema Beach that inspired lot's of great Brazilians musicians to make their songs.
On this unique tour transportation and all entrance fees are included. After the hotel pickup that will be from 8:00am to 8:30am your professional local guide that was born and raised in the city of Rio de Janeiro will introduce you the history of the city during the drive up to the hills of Tijuca National Park, where the statue of Christ Reedemer is located in top of Corcovado mountain 700 mts high. Your guide will tell you the history about the place and help you take great photos at the landmark around 10:45am group leaves the place to go towards the botanical gardens.

Take your time to relax in the Botanical Gardens that was created by Dom Joao VI king of Portugal. Cactus, bromeliads, orchids, differents plants and trees from the whole world you can find the gardens. Finally at 12:45pm group will visit Ipanema Beach to admire the view and enjoy the beach that is one of the most beautiful urban beaches in the world in the end your guide will drop you off at your accommodation.