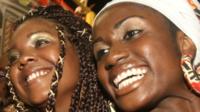 80 €
Salvador da Bahia African Heritage city Tour Including Afro-Brazilian Museum
Enjoy the iconic district of Pelourinho , listed By UNESCO like a human being heritage site. Walk through the history and be stunned by the African Bahian atmosphere and its ambiance of life and culture. Salvador boasts the largest community of Africans in Brazil hold, so don't miss this unique glimpse into African heritage and history.
Salvador, the first capital of Brazil, keeps as a heritage remarkable presence of African identities, brought through the transatlantic slave trade from the coast of Africa to Brazil. During the Portuguese colonization, the Bay of All Saints was of fundamental importance as the main exportation port in the Southern Hemisphere, from which products such as Brazilian sugar and Bolivian silver were sent to European metropolises . Moreover, it was a port of intense circulation of African slaves in the New World.

This tour has been specially designed to deliver special knowledge about the transatlantic slave trade and its legacy through key historical sites of the city of Salvador. This itinerary will start at the Fort and Lighthouse Barra, one of the ports of arrival of enslaved Africans in the city. We will proceed to the Tororó dike and visit the monument dedicated to the valuable legacy of African religious heritage through the worship of Orixas. The next sites are located in the Cidade Baixa (Lower City), where we will visit other central locations in the historical processes that mark the presence of Africans in Bahia and Brazil.

The next site is the historic downtown area, and the Afro-Brazilian museum, in which there is a rich collection that highlights the African perspective in the formation of Brazilian identify and culture. The itinerary includes the Society for Black Protection, an organization led by former slaves and dedicated to promoting the liberation of enslaved Africans and their decedents. Then we will visit the church of the Rosary of the Blacks, the first Black Christian religious brotherhood in the New World. We will conclude this itinerary visiting the museum Casa do Benin, one of the main African cultural centers of in the state of Bahia.