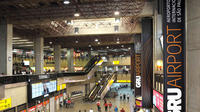 95 €
São Paulo Layover Transit Tour from GRU and CGH Airport
To reach  your destination you first have to endure the burden of the trip.  Unfortunately, this often includes long hours of waiting to complete the next portion of your itinerary ,
So why not get to know another city inside your trip? 
We are aware of how important your time is while in transit!

If you only have a few hours in between journeys or you just want the safety and comfort of private and Tailored Tour, after a flight we can help you with an incredible experience in São Paulo during your available time!


We are experts in dealing with flights of layovers and connections that begin or end at the international São Paulo Airport (GRU)  or in São Paulo Airport (CGH).
With our meet and greet service, the custom tour begins from the moment you arrive at your stopover location. You will be welcomed at the airport with one of our professional Guide carryng a tailored sign with your name.  Following the tour, you can be returned to a central city hotel, or if on a layover, back to the airport to continue your journey.
Tour times are offered according to your layover schedule.
100% private and tailor made city tour with a knowledgeable Tour Guide by private car or van. Enjoy sightseeing and walking downtown São Paulo. See as many landmarks as possible according to the time, traffic conditions, and, of course, your preferences. Visit amazing spots such as The Pacaembu Stadium, Paulista Avenue, Ibirapuera Park, Sé Cathedral Square, Pateo do Collegio, Luz Station, Municipal Market, Martinelli Building and more. Hotel pick up and drop off included.
Enjoy sightseeing downtown São Paulo. See as many landmarks as possible according to the time, traffic conditions and, of course, your preferences. Visit amazing spots such as:
The Pacaembu stadium (Brazilian soccer stadium);
 Paulista Avenue (Financial heart of the city);
 Ibirapuera Park (The biggest green space in town);
 Liberdade district  (Japanese neighborhood);
 Historical center;
 Sé Cathedral Square;
 Pateo do Collegio (City's foundation spot);
 Luz Railway Station (Classic late-Victorian train station);
 Football Museum;
 Municipal market;
 Martinelli Building (São Paulo's first skyscraper);
 Independence Park (National historic landmark);
 Masp - Museum arts from São Paulo;
 MAC- Contemporary art museum;
 Latin America Memorial;
 Pinacoteca (Neoclassical museum);
 Sambodromum and more.
 Details
Tour duration:  4hours
Private tour by car, van, micro-bus or bus
Bilingual guide: Spanish, English (Other languages upon request in advance)
Included: Airport  pick up and drop off, private transport and indemnity insurance
Not Included: food, meals and drinks, international travel insurance, accommodation
Recommendations:
Wear comfortable shoes and clothes
Bring only your carry-on baggage

Make a check-in for the next flight and check the time of the departure

Additional Information
Number of people per car: 1 to 4 people
Number of people per van: 5 to 13 people
Infant seats are available on request if advised at time of booking
Availability: daily at various times
Start Point: São Paulo Airport (International and domestic), hotels in São Paulo (metropolitan area) or another place of your choice.Return details: Return to your start point or schedule a special destination in advance.