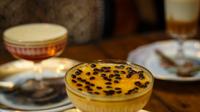 74 €
Rio Walking Food Tour
See the delicious side of Rio on this 3 hour guided walking food tour.   Rio de Janiero has an amazing outdoorsy atmosphere and food takes center stage on this tour, as you'll get to taste and experience the food and culture of Rio like the locals do.
On the Rio Walking Food Tour, you will experience delicious (gostosos) and different flavors from Rio as well as other parts of Brazil. We'll start at Cinelândia, the major public square of Rio, with its beautiful buildings, here you'll taste a typical snack called "pastel", and we'll try the exotic flavor of a typical Amazonian fruit.
Moving on, we'll see the amazing Arcos da Lapa (Carioca Aqueduct) and the famous Selaron Stairs while sampling soft pães de queijo (cheese bread).
Hoping in a taxi, we'll head to the artistic neighborhood of Santa Teresa, known for its great food dishes from all over Brazil.  The tastings continue at an authentic Carioca boteco (Rio bar).  Here you'll try a Portuguese snack that gets even more delicious while sipping a cold Brazilian beer. Continuing with the tour of Santa Teresa and the neighborhoods unique foods, you'll be taken to try a secret dish (a sit down meal) at a secret place, which has an outstanding view of the city.  Here you can enjoy a refreshing cold Caipirinha,  Brazil's national cocktail, while enjoying your secret dish. Need to satisfy your sweet tooth, this tour includes stops to enjoy some sweet refreshing desserts in authentic local shops/restaurants. 

After your 3 hour culinary tour ends, relax, explore and enjoy the Santa Teresa neighborhood.