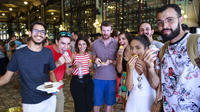 50 €
Rio Old Town Historical Walking Tour
Discover how the old and modern parts of Rio's downtown co-exist on this historical walking tour. Learn how to ride both the subway and the new electric tram, and discover areas that were rarely explored even by locals before the 2016 Olympics. Discover the renovated harbor area and its highlights such as Kobra's graffiti mural and Museum of Tomorrow. Stroll around Orla Conde surrounding the downtown and into Rio's Old Town district. Ride the new eco-friendly tram of Rio Visit the city's oldest bakery and treat yourself to the best pastries in town.
On this jam-packed Rio city tour, we're mixing historical venues, modern designs, and stunning views from iconic sites to give you a full taste of Rio's past, present, and future. 

Start your journey in the classic area of Copacabana, then head to the subway to reach the downtown area at Cinelandia Square. Ride the newest transportation option in Rio, the VLT tram. The sustainable ride on the electric tram takes you across downtown all the way to the renovated harbour area, which has been developed into the modern Olympic Boulevard. The 2016 Olympic Games have left a great legacy on that side of town, and you won't get a better first impression of modern-day Rio de Janeiro.    

Get off the tram right by the impressive and colourful graffiti mural designed by Eduardo Kobra. His work features the indigenous people of five continents and covers over 8,500 square feet (2,600 square metres) of the building. From there, head from the boulevard down to the Museum of Tomorrow, another impressive work that's great for snapping a few photos with Guanabara Bay in the background.

Connect from this renovated area to the old district of the city via a new pathway along the bay. Moving along the old streets of Rio de Janeiro's downtown, reach the first bakery of Rio. This traditional spot dates back to 1894 and has kept all of its original enchantment. As you enjoy the fancy architecture, treat yourself to some of the yummiest desserts in town.

After this sugar rush, walk to Carioca Square to take the subway back to Copacabana.