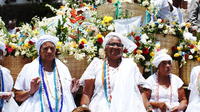 64 €
Religious African Heritage Tour in Salvador
Join us in experiencing this special Wednesday: the day dedicated to Xango, who is the patron of the community, the thunder god of justice, and a symbol of strength and survival for Africans oppressed under slavery. Experiencing this colorful ceremony is a must-do when in Salvador!
A visit to Salvador ensures an experience of the legacy of its ancestral peoples and the presence of African gods who also made the voyage from Africa into Brazilian lands. This is the city that smells like palm oil, reverencing and preserving the traditions of the African continent.

This religious itinerary consists of a daytime visit to a Candomblé terreiro. You'll get to experience the daily life of a Candomblé community, and their faith as members of this religion that worships the Orixas. Wednesday is the day dedicated to Xangô, the patron of this house and of the community. They evoked Xangô for protection in the freedom struggle. Witness the offering of a ceremonial dish (amala), and even partake in this special moment of axé, or vital energy, as you feast with the god king.

You'll have the opportunity to grasp the power of the high priestesses of this tradition. They have historically played a fundamental role in the preservation of cultures and religions traditions of African matrix. Besides experiencing this religious rite, you'll also visit the physical space of the terreiro, and the adjacent museum that chronicles the historical trajectory of this community.

Get acquainted with the local school run by this religious community, which aims to reclaim in their pedagogical practices the history and culture of African peoples and their descendants. This terreiro also manages a weaving enterprise that produces religious clothing and ornaments. Concluding the day with a visit to the largest public fair in the city, listed as an intangible heritage of Brazil by UNESCO, which was founded by enslaved Africans in the nineteenth century, the largest market of the religious community in Bahia.