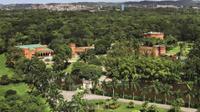 30 €
Recife Culture Tour Including Ricardo Brennand Institute
Located in the Lowland named Várzea, your destination is the Ricardo Brennand Institute. Enthrall at an architectural complex inspired by the British style of the Middle Ages, with original features like drawbridge and religious altar. In a stunning setting like this, you can learn more about the diversity of culture and Pernambuco and international history.
Created in 2002, the cultural foundation is dedicated to the preservation and exhibition of works of art and from around the world collected by Ricardo Brennand. Visit this tourist spot, the workshop Francisco Brennand and the Castle Museum St. John, framed by gardens and the course of the Capibaribe River.

Meet the fantastic sculptures that Francisco Brennand created in his workshop surrounded by the river. One place in the world where his works of art are associated with architecture to form a multifaceted universe as the artist. Check out different techniques and forms of expression in his workshop in the open.

The Castle Museum houses is a rich collection with visual arts, armory, decorative arts, tapestries, sculptures and pieces of furniture that you can glimpse with all the calm and comfort in their exposure.

Beside the collection, check out the picture gallery with traveling exhibitions and its permanent exhibition Frans Post and Dutch Brazil. The artist first landscape of the New World, illustrated several views of harbors and fortifications of Recife and Olinda in his time. Among its cultural discoveries, rest at the cafeteria and restaurant in the mild climate of the institute.