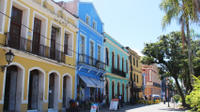 218 €
L'activité n'est pas disponible, essayez une autre recherche !
Rail Tour to Morretes and Paranaguá from Curitiba
This private tour includes two highlights:
The scenic train tour to Morretes in the morning and typical lunch included and then visit to Paranaguá in the afternoon.

Paranaguá was the first town founded in Paraná Estate and offers colonial architecture and beautiful views of the Itiberê River.
The single-track line through the Serra do Mar is one of the highlights in Paraná.

Opened in 1885it was for the engineers one of the big challenges of that time. The track starts in Curitiba in 934 m above the ocean and ends in Morretes just some meters above sea level. The distance until Morretes is approx. 70 km and takes about 3h30.
The track leads through luscious tropical vegetation of the Atlantic Rain Forest, numerous breathtaking bridges and tights in a train of the 1960´s.

Morretes was a very important place by the end of the 19th century and had 3 river ports to export the mate-tea and sugar-cane produced in the region.

In Morretes, you will enjoy a typical lunch. You will taste "barreado": boiled beef cooked in a closed casket for many hours. It will be served with fish and seafood.

After lunch get ready to go to Paranaguá, the first town founded in Paraná in 1646.
The city has today about 150,000 inhabitants and its economy is based in the harbour, the second biggest in Brazil and the first in Latin America for grains.

In Paranaguá you will visit:

Archeological and Etnological Museum: Maintained by the Federal University of Paraná (UFPR), this museum is located in a former Jesuit school facing the Itiberê River.

Historical Downtown: With several churches such as Sainkt Benedikt (founded by slaves), Holy Rosário, Sain Francis, Rua da Praia (several colonial houses), and markets such as Artesanato (handcraft), Café, and Municipal Market.

Holy Rocio Church: The image of the saint, found by a humble fisher in the 17th century won a small chapel that grew very much since then due to the always increasing number of visitors. Today it is the official saint of Paraná State and welcomes weekly thousands tourists.

Return to Curitiba by Estrada da Graciosa or by Highway 277.

Departure at 7:30 am and return about 6 pm.

Wagon tourist: Wagon of the intermediary class with board service with soft drinks and snacks and local guide (Portuguese speaking). From 4 persons on our guide will be on board with our clients.