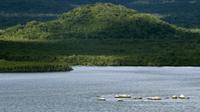 207 €
L'activité n'est pas disponible, essayez une autre recherche !
Rail Tour to Morretes and Boat Tour in Antonina from Curitiba
The private tour includes the classic train tour to Morretes with Serra Verde Express and a boat tour to get to know the exciting and untouched nature of the Antonina Bay during a boat tour.

A delicious typical lunch is also included.
The single-track line through the Serra do Mar is one of the highlights in Paraná.
Opened in 1885 it was for the engineers one of the big challenges of that time.
The track starts in Curitiba in 934 m above the ocean and ends in Morretes just some meters above sea level. The distance until Morretes is approx. 70 km and takes about 3h30.
The track leads through luscious tropical vegetation of the Atlantic Rain Forest , numerous breathtaking bridges and tights in a train of the 1960´s.

Morretes was a very important place by the end of the 19th century and had 3 river ports to export the mate-tea and sugar-cane produced in the region.

Typical lunch in Morretes or Antonina: "barreado", a delicious beef stew served with cassava-flour, rice and bananas, salad, sea food, sprawls and fish filet. Try also the local sugar cane spirit. Please inform your guide immediately in case of any food restrictions, so that we can find an alternative prior to lunch time.

Transfer to Antonina, a lovely colonial harbour town with beautiful views to the bay.
Visit the Antonina Bay during a boat tour of about 40 minutes. You will see the mangrove, very important for the fish and crustaceans and the lovely "Serra do Mar" mountains.
Birds of the region will surely show up too, such as "colhereiro" roseate spoonbill (Platalea ajaja), "biguá" neotropic cormorant (Phalacrocorax brasilianus), "garças" great egret (Ardea Alba), "guará vermelho" scarlet ibis (Eudocimus ruber), "socó" rufescent tiger-heron (Tigrisoma lineatum) and with some luck you might also see dolphins swimming along.

Return to Curitiba by Estrada da Graciosa or by Highway 277.

Departure at 7:30 am and return about 5 pm.

Wagon tourist: Wagon of the intermediary class with board service with soft drinks and snacks and local guide (Portuguese speaking). From 4 persons on our guide will be on board with our clients.