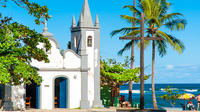 114 €
Private Tour to Praia do Forte and Praia de Guarajuba from Salvador
A trip to Salvador of Bahia wouldn't be complete without a visit to the stunning coconut coastline of Praia do Forte in Bahia.

Take a private ride into the tropical waters, splash in the deep with the fishes and plan your future in paradise on a secluded Brazilian beach, see the turtles enjoy the greatest area of Bahia State.
As we visit the Forte and Guarajuba beaches at the north coast of Bahia, located at 70km from Salvador, our client will contemplate landscapes of indescribable beauty and experience the enchantment of this region.

Our day begins with a tour by the urban beaches of Salvador until we reach our first destination to enjoy and photograph the dunes and coconut trees of Lagoa do Abaete.

We then proceed through the picturesque Coconut road, towards the Forte Beach, an area marked by lush fauna and flora, located at the rain-forest sustainable preservation site Sapiranga.
Besides the beautiful beaches, natural pools and a charming fishing village by the sea, we will visit the turtle sanctuary and get to know the preservation projects developed by marine life and its natural ambiance.

During this visit we will have the opportunity to enjoy the culinary delicacies, as well as artwork and handicrafts produced in the region.

Then we will have lunch by the beach at Guarajuba, famous for its coconut trees and inviting vibrant and crystal blue water, as we bask in the tropical sun.