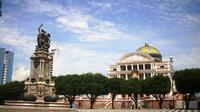 86 €
Private Tour: Manaus Historic City
This tour is an overview where you can see and learn about the rubber boom time history of Manaus leaded by an English speaking guide.
You will visit the famous Manaus Opera House with indoor and outdoor views, the Negro river Palace built in 1900, walk through the Adolpho Lisboa market where you will see the amazon fish, vegetables, fruits and souvenirs. You will also see the boat terminal where everyday many people travel in the amazon river sleeping in hammocks.
This tour can be in the morning or in the afternoon.
Your day will start with a pickup from your centrally located hotel in Manaus where you will meet the tour guide.

Visit the Manaus First City Hall which is also the place where the city begun in 1669.

Drive by the port area where you can see some old and historical buildings.

Adolpho Lisboa Municipal Market is our next stop. We leave the car and walking inside of its area to see and learn more about the local products like the fresh water fish, the vegetables, the fruits, other products typical of the Amazon river area and then arrival at the historical building Adolpho Lisboa where you can buy souvenirs. Quick stop to get them and then we take the car again to see the rest of the places.

Visit the Jefferson Peres Park, an area restored in 2009 with an idea to be new entertainment option for locals and tourists. Visit the Rio Negro Palace, built in 1900 to be a powerful rubber barons private residence, Mr Scholz a German who came to Manaus and became very rich with the rubber production. And then, we will drive by the Iron Bridge area and some other areas of Manaus.

The Opera House will be the highlight of our tour. We will walk through its square to see and learn about its structure and style. We'll have time for pictures and then we will visit the Opera House inside, all accompanied by your English speaking tour guide.

After we take the car and you will be dropped in your hotel in Manaus.