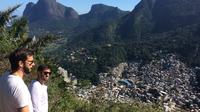 369 €
Private Tour: Full-Day Custom Rio de Janeiro Discovery Tour
While in bustling Rio de Janeiro, join a full-day private custom tour of the city's best sites. Your personal driver-guide will help you design the perfect 8-hour itinerary, escorting you to key attractions such as Sugarloaf Mountain, Christ the Redeemer and Santa Teresa neighborhood, or even the Tijuca National Park to see the waterfalls or hike to the view points. While touring at your own pace, stop to pickup a souvenir, take a few photos, enjoy lunch at a restaurant recommended by your bilingual guide, or simply explore. Rio de Janeiro City and its surrounding areas are at your fingertips on this private tour.
Create your own personalized sightseeing itinerary in Rio de Janeiro using the services of a professional bilingual driver-guide. Once you're picked up by private vehicle from your hotel, you can visit your choice of natural, cultural, and historic landmarks within the city and surrounding areas. Depending on your interests, your guide will provide recommendations based on time and location to maximize your time.

Explore key monuments like Christ the Redeemer and Sugarloaf Mountain. Visit Rio's bustling downtown or the favorite spot for artists and artists alike, Santa Teresa neighborhood with it's winding, narrow streets. Venture into the Favela Vidigal (slum) perched up on a hilltop for amazing views and to learn about the reality of the social problems in Brazil. Hike up to one of Rio's numerous peaks in a national park. Dive into waterfalls or enjoy a swim along the beach paradise of the West Zone. Bike around various neighborhoods. You decide the pace of your tour and how much you'd like to pack into a maximum of 8 hours. After you've taken in the sights, your guide offers convenient drop-off at your hotel or anywhere in central Rio de Janeiro.

Please note: This tour provides you with a professional driver-guide. You will be responsible for additional charges during the day, such as any public transportation costs, bike rental, admission fees and food.