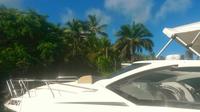 1 €
Private Tour: Bay of All Saints Speedboat Experience
Splash through the Bay of All Saints on a 5-hour private speedboat tour. Discover the sights from a unique coastal viewpoint. Hear your talented guide share the history of the area and play songs that have been inspired by the bay.
Your adventure will start with pickup from your hotel in a private car and head to the marina.


Your first stop along the coast will be at Saint Marcelo's Fortress, the only circular fortress in Brazil. Originally constructed in wood in a triangular shape, it was rebuilt in it's circular shape after Holland's attack in 1624. In the eighteenth century it became a prison for incarceration of important leaders. From here, you will also be able view Lacerda's Elevator.

Your next stop will be at the Humaita area, the biggest and oldest military architectural area. This fortress was built strategically on the tip of the Salvador area and was designed with a monastery, church, and lighthouse. Together within the fortress, the Portuguese believed this combination would provide protection. From your coastal view, you will be able to see the main Port of Salvador.

After hearing the amazing stories of the area, you will head to Barra. Here you will be able to swim near the lighthouse or the beach, depending on the tide. These waters are also great for snorkeling (equipment not included) with temperatures usually between 68 to 77 degrees Fahrenheit (20 to 25 degrees Celsius).

You will pass by Santa Maria and Saint Diogo Fortress on your way back to the marina. To conclude the tour, you will be taken back to your hotel.