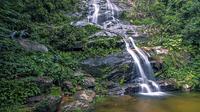 172 €
Private Tijuca Forest and Christ the Redeemer Tour
On this private tour you will see iconic sights in Rio such as Christ the Redeemer and the lush Tijuca Forest. This 5-hour tour will be with your own private guide and transportation to see these two top attractions. With pick up from your hotel or accommodation, head out to explore in a comfortable and more personal way than with a larger group. This tour is designed for those who want this experience and the nature loving people who would like to see a different side of Rio de Janeiro.
Enjoy a wonderful tour inside Tijuca National park with your private guide. After you are picked up from your hotel or accommodation at 8am, make your way to the famous and second largest statue of Christ in the world. Christ the Redeemer stands 120 feet tall and sits atop Corcovado peak. Learn about the statues history and why it is named one of the new wonders of the world. Corcovado peak also offers one of the most impressive panoramic views of the city. From the high peak you can discover the geography of Rio.

After seeing this amazing place you will continue the tour to see the spectacular mountainous views from Vista Chinesa, beautiful waterfalls such as the Taunay waterfall in the Tijuca Forest, and the visitor's center. Taking the natural sights in, continue through the forest where, if you look closely, you may encounter unique animals including the Saguis and Capuchin monkeys, toucans, hawks, quatis (a Brazilian raccoon), and numerous exotic plants. The tour will end with transport back to your accommodation.

You will spend around 2 hours at each attraction allowing approximately 1 hour for travel time to and from. Depending on your group size, the tour will be done in a private, air-conditioned car or van.