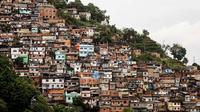 103 €
Private Rocinha Walking Tour with Caipirinha
Get a real insider's perspective with this 4-hour walking tour with a resident Guide in Brazil's largest Favela, Rocinha. Become in touch with the community's lifestyle, the neighborhood, commercial centers, schools and local projects. Explore the culture, interact with the residents and get a unique experience of the daily life in a Favela.
You'll be picked up from your hotel at 8:00 am in the morning to start your 4-hours tour. (There is the option of an afternoon tour available at 2:00 pm). You will be taken to the Rocinha, the largest Favela of Brazil, in a private Sedan car vehicle. One of our local Guides (who are all residents in the Rocinha community) is with you at all times.
On the top of the Rocinha you will desembark the car and start the walking tour that leads downhill through the Favela. You will be able to explore  the neighborhood, interact with residents and get to know commercial centers, schools and local projects. Nothing is better to be with a resident Guide that can explain you every little detail about the life in the community you would like to know. During the tour you will stop at a cozy local bar where you can enjoy a fresh and delicious Caipirinha on the house. 
About 3 hours later, once you arrive at the bottom, the driver will already be waiting for you and drop you off at your hotel safely. 
Be prepared for a very real and educational experience!