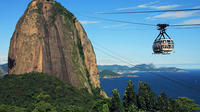 148 €
Private Rio de Janeiro Half-Day Sugar Loaf and City Tour
Take an exciting cable car ride to the top of Sugar Loaf Mountain and marvel at the stunning views of Rio de Janeiro below. Visit iconic sites in the city such as Maracanã Stadium, the Sambadrome, and historical downtown Rio, on this 4-hour private tour.
Your half-day private tour begins in the city of Rio de Janeiro, where you'll visit the Maracanã Stadium, the Cathedral, the Sambódromo, and the historical downtown area. Afterwards, you'll head to Sugar Loaf Mountain.

Experience spectacular views of the city, sky, the sea, and the surrounding area from Sugar Loaf, the mountain that is made up of pure rock and partly covered with Atlantic rain-forest. It never disappoints visitors that decide to make their way to the top.

Going up Sugar Loaf is nearly obligatory for those who visit the Marvelous City. From the top, it is possible to see not only Rio de Janeiro with its beaches and historical sites, but Niteroi, across Guanabara Bay, as well.

Travel to the top of Sugar Loaf by cable car. There are 2 stops on the way up. The first is Morro da Urca, a bit more than 500 meters from the starting point, where you'll find a restaurant and can enjoy panoramic views of Rio de Janeiro. After this, there are only 750 meters left to reach the second stop, at the summit of Sugar Loaf.

There are various stories about the origin of the name of the mountain, known as Pão de Açúcar in Portuguese. According to legend, during the peak of the sugar cultivation the Portuguese put the sugar in clay cones to be exported to Europe. The farms were called sugar loafs and, the mountain had a similar shape to the cones.