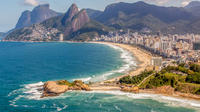 68 €
Private Rio de Janeiro City Tour with One-Way Airport Transfer
This tour is designed so that you get to visit the most famous landmarks of Rio such as Christ the Redeemer, Sugar Loaf, the Tomorrow's museum and the historical sites of Rio with an optional walking tour in the downtown area of Cinelândia and the Paço Imperial with its many historical buildings. Sugar Loaf is a must-see attraction with spectacular views of the city. Depending on time, we also suggest a visit to the Vista Chinesa lookout in the Tijuca forest. It's a nice experience off the busy area of Rio. It is suggested you visit the main attractions of Rio but you can always customize your tour to accommodate your special interests.
Your private tour includes a one-way transfer in from the airport to your hotel. Transfers in from the Galeão or Santos Dumont Airport are offered only between 6:00am to 11:00 pm. We offer transfers to the airports for an additional charge.

You can then choose to take your city tour later on at any time between 8am and 11am. You will be picked up from the hotel and taken to visit the most important landmarks and whichever you have chosen upon booking.

A trip to Rio without visiting Christ the Redeemer, one of the Seven New Wonders of the Modern World, is not worth it. You will get there on board of a centenarian eco-friendly electric train which doesn't pollute and cuts through the well-preserved Atlantic Forest, part of Tijuca's National Park. Once at the top, you will get the most beautiful view overlooking Rio de Janeiro.

You can also visit Rio de Janeiro historical center and take an optional walking tour. The downtown area has many interesting buildings like the Municipal Theatre, the Brazilian National Library and the Belas Arts Museum. You may also visit the Paço Imperial which was built in the 18th century to serve as residence for the governors of colonial Brazil, the Palácio Tiradentes and the museums and churches around this area. Downtown during the week is a busy area with lots of restaurants and cafes such as the Confeitaria Colombo inaugurated in 1894.

You will go to Sugar Loaf which is a must see attraction with spectacular views of the city. The Sugarloaf Cable Car was launched in 1912 and the view of the constant come and go of the bondinhos is a part of the city's landscape.

Depending on time, you may go to the Vista Chinesa lookout in the Tijuca forest. Your tour ends with drop-off at your hotel.