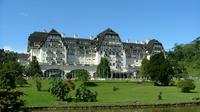 168 €
L'activité n'est pas disponible, essayez une autre recherche !
Private Petropolis Imperial City Tour
Visit Brazil's Imperial City on this private, full-day tour to Petropolis, leaving from Rio de Janeiro. History is everywhere in this tropical mountain town — with palaces and churches dating back to Portuguese colonial times. Tour the city's most famous places, including the Quitandinha Palace and the Imperial Museum. Wander the charming old streets, dotted with old-fashioned European-style houses. Top the day off with a visit the first brewery in Brazil, founded by German immigrants. See things at your own pace with your private guide. Roundtrip transportation is included.
The tour begins with a morning pickup from your hotel or cruise ship and hit the road for the hour's long drive to Petropolis. Once you are out of the city, drive through the Serra dos Órgãos National Park, boasting beautiful views. Feel free to stop anytime along the way for photos.

As you enter Petropolis, stop first at the Quitandinha Palace, a former casino hotel with a beautiful garden and luxurious interior. After the visit, continue to the Imperial Museum, where you will have the opportunity to see over 100,000 items from the Brazilian Empire. The driver will drop you off at the museum's entrance and will be waiting for you at the same point after you finish your visit.

At this point, the tour continues on foot. Follow your guide to the Metropolitan Cathedral, a beautiful and important place, where the remains of one of Brazil's emperors are buried. From there, walk down charming streets with beautiful antique houses until you arrive at a restaurant for lunch (own expense).

After lunch, indulge in dessert at a well-known Petropolis chocolate shop. Then, visit Santos Dumont's house. He was an important inventor known for the early zeppelins with gasoline engines and one of the first flights in an airplane. His charming, quirky home has been turned into a small museum, with some of his inventions on display.

Take a short walk to the Bohemia brewery. If you choose, you can do a tour of the brewery and/or try some of the brews (own expense). While you are at the brewery, the guide will get the car and wait for you at the exit. After visiting the Cristal Palace, you'll go to the Shrine of Fatima, a statue designed by the same person who designed the Christ the Redeemer Statue. It is located on the top of one of the hills and has panoramic views of the city and surrounding green mountains.

Once finished, you will return trip back to your hotel, airport or cruise ship in the private vehicle.