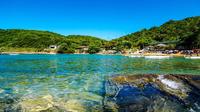 288 €
Private Buzios City Tour and Paradise Beaches
You can not come to Rio de Janeiro and miss Búzios! This peninsula and resort town is known world wide as the Brazilian´s Saint Tropez, and it has it all: glamour, calm paradise beaches, shopping and great restaurants. In the 1960´s this city fascinated no one less than French actress Brigitte Bardot and Orla Bardot beachfront was named after her, and it even has her statue.

For the Búzios experience to be complete, enjoy a 2-hour and a half boat tour with 3 paradise beaches stop and the city tour includes lunch at João Fernandes beachfront, the beautiful Orla Bardot, the glamorous Rua das Pedras street and the most popular beach, Geribá.
This private tours allows you to see all the great parts of Búzios in one day, leaving meeting point at 8 am, with the flexibility of altering the itinerary in case you have a special request.
This exciting tour begins with pick up from your hotel, port, or airport heading for Búzios.
Once in Búzios, take photos with Brigitte´s statue at the beautiful Orla Bardot and be amazed at other works of art in the area.
Visit the glamorous cobblestone Rua das Pedras street, with its many fancy shops and restaurants.
At 11 am the tour guide will take you on a wonderful boat tour with a 13m toboggan, passing by 12 beaches, with stops at the paradise beaches João Fernandes, Ilha Feia and Tartaruga.
For lunch, eat at a seafood specialized restaurant with a seafront view, at the charming João Fernandes beach.
Last, discover Geribá, the beach loved by surfers and with beautiful people abound.
At the end of this unforgettable tour, return to your departure point.

All attractions may be altered upon request.