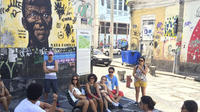 31 €
Port Zone and the African-Brazilian culture
This trip bridges the old of the city with the most contemporary. This is an experience to give you a real feel for the history of Brazil, and to get immersed in the story that began with the arrival of so many migrants, later turning Rio into the "Wonderful City" that they made their home.
Come and get an understanding of how a mixture of different people came together to give us today's Brazilians. The experience begins at 10am in front of MAR (Rio Museum of Art). We will pass the following locations: Praça Mauá, Rua Sacadura Cabral, Nossa Senhora da Prainha Church (outside), Largo da Prainha, Pedra do Sal, Valongo Wharf, The Hanging Gardens of Valongo, Conceição Hill and a special stop at the Hotel Pompeu to try Aunt Ciata's famous feijão broth.

You don't know who Aunt Ciata is? You can't leave Rio without hearing about one of the most famous figures in the city! This experience deals with architecture, history, the revitalization of an area, but most of all with Brazilian culture, and how such different people came together to make Brazilians as irreverent and fascinating as they are today. Don't forget a comfortable pair of shoes! This is a moderately intense walking tour, nothing too strenuous, but it does involve tackling one steep slope.

Oh! Before we forget! This experience has been awarded the seal of approval for quality and innovation called "Experience Tour", and for this reason we offer a Find Your Rio kit to anyone taking "The Charms of Port Zone" package. The kit contains a water bottle, a bag, beer-mats, and a Find Your Rio passport!