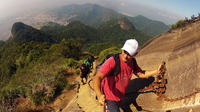 65 €
Pico da Tijuca Hiking Tour in Tijuca Forest National Park
Pico da Tijuca is the perfect adventure-hike in Tijuca Forest. Involving history, beauty and the inside of Tijuca Forest you'll visit the park museum and a waterfall.
This is the perfect tour for those who want to experience the inside of Atlantic Rainforest in Rio de Janeiro, and the history of Tijuca Forest. This forest has been protected since the mid-nineteenth century, preserving a number of natural and historical treasures from the colonial times, which you'll admire during the tour.

With its 1,021m of altitude, Pico da Tijuca is the highest mountain in Tijuca Forest and it is located in the heart of the Tijuca National Park. The trail to the top is considered one of the most beautiful trails of Rio de Janeiro, starting at the park's entry gate and going through several trail sections before getting to the summit.

You will pass through the forest and get to visit the national park museum, a waterfall, the viewpoint of Tijuca Mirim peak and the legendary staircase carved into the rock, built in the early twentieth century for the visit of King Albert of Belgium, as well as Pico da Tijuca itself. Despite the altitude, the trail is not steep and provides some of the most spectacular views of the city of Rio de Janeiro. At the top of its 1021 meters, you can see the Pedra da Gávea, the Pedra Bonita, the Corcovado - Christ the Redeemer Statue and the other mountains of the Tijuca Forest and landmarks such as Guanabara Bay, Barra Tijuca and the Serra dos Orgaos Region.