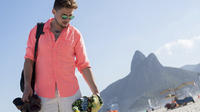 163 €
Personal Photographer in Rio
Don't waste time nor that special moment on your trip taking shot after shot. Let us take care of that! All you need to do is take home your memories and high-quality images of Rio, showing the city from all kinds of fascinating angles. No-one does it better than a local with in-depth knowledge of the city and its landscapes. That's why our photographer will be on hand to capture incredible moments in a natural, spontaneous way.
Tell us what type of setting you'd like for the photos or specific locations. That way we can put together a perfect, practical itinerary to take full advantage of your experience.

There is a minimum duration of 2 hours. This includes journey times. You choose the 2 places where you would like to have the professional photos taken. There are certain locations that we don't go to, as we evaluate everything we do in terms of maximum safety and comfort.

To make the experience as viable as possible, and to avoid heavy traffic, we suggest choosing locations in the same region.
The professional photographer's transport costs, as well as any admission fees (e.g. museums, galleries, parks, boats, bus fares, train fares, Uber, food, etc.) are to be paid for by the visitor. However, in cases where visitors are already on a private Find Your Rio experience where transport is included, no additional charge for the photographer will be made, if there is space for an extra passenger. Meeting points for the experience will be in the Centro or Zona Sul areas of the city. For other locations, please consult the photographer regarding any additional costs this may incur.

High quality, professionally edited photos - sent to you within 48 hours of the experience by private link.