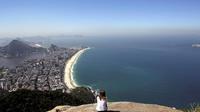 79 €
L'activité n'est pas disponible, essayez une autre recherche !
Pedra da Gavea Guided Hiking tour
Take your Rio de Janeiro visit to new heights thanks to this 8-hour private hiking excursion to the top of Pedra da Gavea. Travel to Rio's Tijuca rainforest for your ascent of this 9,060-foot (842-meter) pinnacle of rock, admiring local wildlife during the steep climb. You'll eventually strap on climbing equipment, completing a few basic rock climbing sections on your trip to the top. Enjoy stunning views of greater Rio from the peak before rappelling back down. A guide, equipment and round-trip hotel transport from select locations are all included.
Experience a hike and climb filled with legends and mysteries. This is the ideal hiking tour for those who enjoy lots of adventure and adrenaline. You will go to the summit of Pedra da Gavea, which is the biggest block of solid rock by the sea in the world. At the top of its 844 meters, you can see the Lagoa Rodrigo de Freitas, the Jockey Club, the Botafogo cove, the Aterro do Flamengo, the Sugar Loaf mountain, the Morro da Urca, the Pedra Bonita, the Corcovado - Christ  the Redeemer Statue and the other mountains of the Tijuca Forest and landmarks such as Guanabara Bay, Ipanema, Leblon, São Conrado, Barra Tijuca and the Serra dos Orgaos Region.

This hiking tour takes place inside the sector C of Tijuca National Park, which means that you are within the Rio de Janeiro Atlantic Rainforest, so you have great chances to encounter wild animals during the hike.

You will take a traditional trail to Pedra da Gavea of about two and a half hours to reach the top. The hike is steep and has several natural obstacles that must be overcome. There is some basic rock climbing section called Carrasqueira, but no previous experience is necessary here as your guide will help you using all the safety techniques and procedures necessary.

The descent is made by a technique similar to rappelling (abseiling), but the guide is the one who controls the equipment and the descent. This allows formore comfort and safety. You just need to relax, enjoy and take lots of photos.

The climate is hot and humid, making the Pedra da Gavea hike an excellent exercise. If you have an adventurer's soul and want to see Rio de Janeiro seen from above, this is the tour you are looking for.