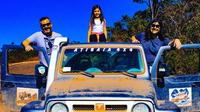 224 €
One Day Trip Off Road 4x4 Adventure
 ONE DAY TRIP OFF ROAD 4x4 ADVENTURE

Book your calendar and circle as an incredible day !

We pick up you at 9:00 am and drive back at 5:30 pm. ( including period on/off road and lunch time)

With over 250 tours made since 2016, we offer an innovation for the off road tourism market, whether for Brazilian residents or foreign tourists.

This modality has the distinction boarding and return of adventurers from their place of origin, residence or hotel in São Paulo, Guarulhos and Campinas (to other local check).

Embark on one of the traditional routes of the World Off Road of our region. Stone Heart and Big Stone, with a stop at Barrocão Waterfall.

It'll be 4:30 hours in a nature and off road experience.

If you are looking for convenience and a good dose of adventure, welcome to ONE DAY TRIP OFF ROAD 4x4 ADVENTURE

THE ONE DAY TRIP OFF ROAD 4x4 ADVENTURE starts at 9:00am when you boarding in our Troller Car. 

After drive for 37 miles on road (about 1:30 hour), we arrive at  Mairipora city and get in the trail, through the rainforest and than begins the off road adventure.

Our first stop will be  at the waterfall Barrocão, faced with more natural beauty, depending on the day and time it is possible to bathe in one of its three falls.

Walking for two hundred meters away from the Barrocão Waterfall, is the Heart Stone, and the opportunity to see it from the front.

After a car climb with a certain degree of difficulty, we have the last view of the Heart Stone.

Behind the adrenaline track, we arrive at the Lookout of the Heart stone in Bom Jesus of Pardons, and its 1100 meters of altitude, with magnificent scenery of renowned beauty.

We leave then towards the Lookout of the Heart Stone, at which time the 4x4 vehicles demonstrate their differences in relation to ordinary vehicles. A trail that has variants such as uphill and steep slopes, holes, ditches and erosions in addition to the "splash", which usually our tours groups ask bis.

Our final destination is visit the  Big Stone and its imposing 1450 meters altitude in Atibaia city,  one of the most known nature sights and visited the State of São Paulo, which provides a visual and amazing photos.

After we enjoy 4:30 hours on trails , we recommend  a meal or snack  after the track before returning. Atibaia city  offers great gastronomic diversity, enabling tourists to make their choice according to their wish after our adventure.

Returning by on road , after 2 hours , we arrive on your base for near 5:30pm.

If you are looking for convenience, contact with nature and a good dose of adventure, welcome THE ONE DAY TRIP OFF ROAD 4x4 ADVENTURE.