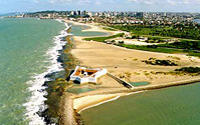 29 €
Natal City and the Southcoast Tour
Soak up the morning with a visit to the Ponta Negra and Fortaleza dos Reis Magos. Enjoy a scenic drive along the Coastal Highway to the city beaches and visit a famous fortress. Then it's off to see the largest cashew tree in the world before bathing in the calm waters of Pirangi Beach. A great sightseeing tour of Natal and the south coast!
Enjoy a relaxing visit to the Via Costeira beach before making your way to the Reis Magos Fort (The Three Kings). Perched on the rocks overlooking the ocean, this fascinating structure is sure to capture your amazement!

Your tour proceeds through the neighborhoods of Santos Reis, Rocas and Ribeira, areas where Natal began its urban growth. Then it's on to the city center where you'll visit the cathedral of Natal. Stop at an arts and handicrafts center, where you'll have the opportunity to appriciate the work and do a little souvenir shopping.
Don't miss out on the view from the Morro de Careca (the bald hill), where panoramic vistas of the outskirts of Natal and Pirangi Beach can be found. From sightseeing and culture to shopping and relaxing, this tour has it all! An easy and fun way to experience Brazil's south coast!