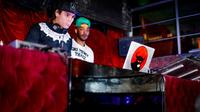 183 €
L'activité n'est pas disponible, essayez une autre recherche !
Miroir Nightclub Entrance and Transportation
It's a club bringing a touch of Vegas dazzle to the Rio night scene. Confidently stepping into the posh hot-spot role once filled by the exclusive Baronneti, Miroir has become the go-to after dark playground of the rich and the famous since its opening. This exclusive Rio nightclub is definitely something you should experience once in a lifetime!
The club, which is co-owned by popular Brazilian actor Luciano Szafir, is sumptuous in both design and setting, creating an intimate, vibrant atmosphere rich in detail and decoration.

Having opened on 2012, Miroir has, according to club promoter Gisele Canavezzi, by no means reached the peak of its popularity. She admits that, "After two months it is still a little secret, and many locals do not know about [it]. This gives it an air of exclusivity, a place where only the coolest local people are attending."

Amongst its many charms, Miroir benefits from regular appearances of some of Rio's hottest up-and-coming DJs. Its regular weekend line-up features Fabio Tepper, Beto Giavonnetti, not to mention a wealth of celebrity fans such as singer Juliana Barbosa, along with model Carol Germano and actor Carlos Vieira to name a few.

Miroir strives to create an enchanting atmosphere which sets it apart from other clubs in Rio. The low, soft lighting and plush fittings and fixtures give an air of opulence that regular visitor Vinicius Marques believes is what's responsible for drawing in the crowds.