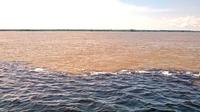 172 €
Meeting of the Waters and Janauari Lake Tour
An amazing tour where you will discover why the waters of Negro and Solimoes rivers cannot mix for several kilometers.
Join the best Amazon River tour where you will discover the magical amazon rain forest.

You can also enjoy a tour under the flooded forest where you can see a little bit of the local fauna and flora, the tour will be leaded by a local and experienced tour guide.

The tour showed is offered as private option just for two people or more.
Your tour will start with a pick up from your centrally located hotel in Manaus. You'll be transfered by car to the speedboat. Visit the Meeting of the Waters with you tour guide and listen to his explanation. You'll also visit a floating village where locals live on floating houses. In this place you can see also their style of life.

Get ready to navigate through some tributaries where you can see the fauna and flora passing by the Solimões river and observing amazing landscapes.

Arrival at Janauari Lake we will stop for lunch (not included in the price). The food served in that place is based in the amazonian cuisine, normally based on fish, salads and other delicious dishes.

Walking in wooden bridges you will see and learn about the giant lilies, aquatic plants that grows around 3 meters wide.

Back to the speedboat and slowly navigation through the flooded forest. This part of the tour can be only done when the rivers are higher, normally happens between February to August.

Back to Manaus and transfer back to the hotels.