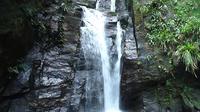 48 €
Horto Waterfalls Circuit Adventure Tour in Tijuca National Park
Enjoy the Horto waterfalls tour with a specialist guide. The hike begins at Jequitibá Waterfall and ends at Shower Waterfall, also known as Box Waterfall. All waterfalls in the tour are permitted for bathing and shower.
Enjoy a wonderful adventure tour which will take you through the Horto waterfalls circuit. This is a sequence of waterfalls located within the boundaries of the Tijuca National Park. The tour is all done on hiking trails and has light level of difficulty. The place where you will hike reserves beautiful specimens of flora and usually some wildlife.

Your hiking begins at the Jequitibá Waterfall as you continue following the trail and waterfalls until you reach the Shower Waterfall, also known as Box Waterfall because of the format that the rock presents itself. You can enjoy a refreshing shower at all the waterfalls in this tour. This Horto waterfalls circuit is a great alternative to the crowded beaches of the city. Come refresh yourself in Rio de Janeiro waterfalls.