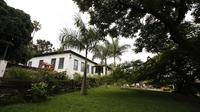 447 €
Historical Farm Tour with Private Guide from Sao Paulo
Get away from the city on a private day trip to Fazenda Cana Verde, a Traditional Farm in the State of Sao Paulo. Approximately 55 miles (90 km) from the city of Sao Paulo - where you will be picked up by a private guide - you will make your way to an old farm of the Historical Colonial Patrimony of the Itu region. On this approximate 8-hour tour, you will be delighted by the tranquility and history of this wonderful farm. Understand the history through different periods of the economy – also about the importance of the sugar cane and coffee booms. Today the farm is used as a hotel that offers a wide array of recreational activities for its guests.
Tour guide will meet with you at your hotel and take you in a private vehicle to a traditional countryside farm of the state of Sao Paulo, located at approximately 55 miles (90 km) from the city of Sao Paulo.
This farm is part of the Historical Colonial Patrimony of the Itu region. It welcomes visitors into the finely restored colonial architecture of its structure, styled by contemporary decoration.
While touring through the farm you can feel the simplicity and cosines of the countryside as you admire the beauty of its landscape made-up of the Atlantic Rain-forest. The landscape is also composed of Matacoes; which are huge blocks of granite, a vestige of volcanic activity that date back to over 600 million years.
You will also have the opportunity to explore different paths, and choose one of the many recreational activities (for an additional fee). Ride a bicycle, rent a Kayak to tour the lake, or go horseback riding to tour through the coffee farms that still stand at the site.
At lunchtime, you'll have the opportunity to choose from a vast variety of typical Brazilian dishes, prepared in traditional local antique stoves.
You'll also have the chance to appreciate original artifacts that have been preserved by the farm owners, which date back to the sugar and coffee production periods of the 18th, 19th, and early 20th centuries.
At the end of the day you'll take a ride back to your hotel or starting point, feeling fulfilled by this tranquil experience.