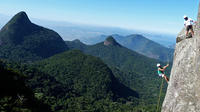 86 €
Hiking and Rappelling Adventure at Tijuca Forest National Park
This Tijuca Forest rappel and hiking tour includes a specialist guide, climbing certified equipment, a visit to Tijuca National Park museum, hiking to Bico do Papagaio through trails in the forest and a shower in Almas waterfall. It is an unforgettable experience.
Tijuca Forest has 3,972 hectares and is one of the largest urban forests in the world. Located inside Tijuca National Park and within the city of Rio de Janeiro, it is considered a UNESCO World Heritage Site and has several historical and eco-tourism attractions.

On this tour, you will experience the Tijuca Forest doing great outdoor activities.The tour starts at the park entrance gate, taking you into a hiking through several trails inside the forest, visiting the museum, the Cachoeira das Almas waterfall and finally the trail to Bico do Papagaio. The hiking starts easy until the base of the mountain where, in the last 10 minutes, there is a more exciting ascent, which is steep and rugged, with roots and rocks. From the summit, you can enjoy the view of the main mountains on Tijuca National Park. From the summit, you can enjoy the beautiful scenery, seeing Pedra da Gávea, Pedra Bonita, Pico da Tijuca, Barra da Tijuca beach and Recreio beach.

The rappel (abseiling) activity is done at the summit of Bico do Papagaio, which is the second highest mountain in the park. With 989 meters in altitude, you will enjoy a thrilling experience. This is a 20 meter vertical rappel, with the immensity of the Tijuca Forest right behind you. The complete tour lasts approximately 8 hours and all safety equipment is included, as well as insurance. Venture through Tijuca Forest and enjoy an exciting hiking and rappelling adventure at one of the highest mountains in the city of Rio de Janeiro.