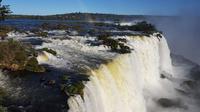 34 €
Guided Small-Group Tour to Brazilian Side of Iguassu Falls
Potamophobia is the fear of running water. Here's hoping you don't suffer from this strange phobia because this Iguassu Falls tour features lots of running water in high definition 3D, with surround sound! You'll see and feel the fury of the falls from many vantage points, so bring your wet weather gear (a flimsy plastic poncho won't cut it)!
Spend half a day basking in the glory of nature on this tour of Iguassu Falls Brazil, one of the most epic waterfalls in the world.
Heading out from the town of Foz do Iguassu, we'll arrive at Iguassu Falls National Park, where we'll get the lowdown on the environmental aspects of the park before hopping on a panoramic 11-kilometer bus ride towards Iguassu Falls. Throughout the ride you'll be treated to views of a variety of flora, and will see firsthand how dense the local subtropical forest is. If you're lucky, you may spot some wild animals too.
After being introduced to the surrounding nature, we'll head out on a 1.2-kilometer walking trail on the Brazilian side of Iguassu Falls, which will lead us along the river, populated with many smaller falls from the Argentinian side. The trail will take us all the way to the base of the biggest waterfall, where a catwalk extends out over the brink of the series of falls which make up the spectacular Devil's Throat.
This side provides a wicked view of Iguassu Falls, and after walking the catwalk, there is a tower that provides an utterly epic panoramic view of Iguassu Falls. We always believe in ending on a high note, so it's only fitting that the top of the trail leads us to the end of our Iguassu tour, right in front of the Iguassu River above the falls themselves. Pretty sweet, we think!
After seeing the falls you must be pretty hungry, so we'll make a stop inside the national park where you can get some food such as sandwiches, pastries, or even an all-you-can-eat buffet with an amazing view. (Please note that lunch is not included in the price of the tour.)
We'll then head back to your hotel, leaving the epic falls behind.