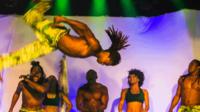 60 €
Ginga Tropical - Brazilian Samba and Folklore Show
At the JW Marriott Hotel in Rio de Janeiro find yourself in the most famous neighborhood in Brazil, COPACABANA, with it's rich representation of Brazilian culture: The Ginga Tropical Show that is wonderful, dynamic and unique! Experience the diversity of our country celebrated without stereotypes. Enjoy the Carimbó, the Xaxado, the Capoeira, the Forró, the Frevo, the Lambada, the Bossa Nova  and all kinds of Samba with the charming and beauty of Mulatas from Carnival. FANTASTIC!!!

From 8:00pm - 9:00pm, the restaurant prepares a great buffet with many selections of salads, main dishes and desserts based on Brazilian Cuisine which is ALL-YOU-CAN -EAT until the show begins (additional charge applies). At 9:00pm, enjoy a 20-min Samba Lesson - learn how to practice and dance the Samba! It is FREE OF CHARGE but you must arrive at least, at 9:00pm.  The show begins at 9:30pm - sit back and enjoy an hour and a half of Brazilian culture with a Live Band, singers and great dancers.
Prepare to be entertained as the lights go up on Ginga Tropical following dinner. Watch as this cast of dancers, singers and musicians take you on a tour of Brazilian culture. Trace the beauty of the people of Brazil from the northern-most region to the southern-most. Feel the energy of each dance lighting up the night with the rhythms of Brazil. Witness the beauty of the Amazon forest, its energy and warmth through the northeastern rhythms of frevo and capoeira. Get to know the south with its regional dances. Join in the joy of the samba, as the cast and audience members hit the floor together in a carnival-type of celebration.

Return to your hotel at the end of your magical evening.