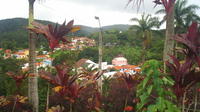 114 €
L'activité n'est pas disponible, essayez une autre recherche !
Full Day Mountain Tour of Guaramiranga
Enjoy a full day trip to Guaramiranga, a gorgeous little mountain town situated in the northeast of Ceara Fortaleza. Beautiful, peaceful and cozy are three features that describe the town, and its lifestyle, very well.
After being picked up from your hotel in Fortaleza, you'll start making your way to the mountain town of Guaramiranga. Also known as the "Flower Town", its temperature ranges from 18°C to 25°C which is the main reason for the spectacle of flowers that blossom in town. 

First though, the group will make a stop in the city of Redenção, which in Portuguese means redemption; the city has this name because it was the first city in Brazil that abolished its slaves. After that, you'll proceed to the Capuchin Monastery, which in the 19th century (in the coffee golden era) was an elegant building that was being constructed to be a seminary. Today, the building known as the Capuchin Monastery is a relaxing inn and is still run by these religious men. The inner gardens are an extra attraction, with flowers and other typical plants from Guaramiranga Mountain. Next to this beautiful piece of nature and architecture, the church for Our Lady of Lourdes, built in 1935, gives a bucolic touch to the environment.

After a brief lunch break, you'll finally reach Guaramiranga. You'll be exploring the town in a tour, as well as have plenty of time afterwards to relax, walk around the town, and enjoy nature. Afterwards, the group will head back to Fortaleza to conclude the tour.