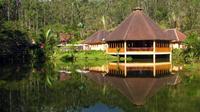 139 €
Full-Day Andasibe-Mantadia National Park Private Tour from Antananarivo
This tour has been crafted to get you a blend of both a local lifestyle of people in Malagasy as well as the visit to beautiful reserves having unique species. In this tour will have to visit places like Antananarivo and Andasibe.
You will get picked up form the reception of your Antananarivo hotel on 8.00am where your tour will start and you'll head for Andasibe. This is the nearest National Park to Antananarivo, known as the Bezanozano's ethnic. Located 145km from the capital on the national road 2 to Toamasina (an old port).

There is one private reserve, one special reserve and one national park here. You will be able to find there the biggest lemurs in Madagascar, the famous Indri and you will have the opportunity to get an idea of thee Malagasy lifestyle. Upon arrival on destination, you will have get a panoramic view of the green forest.

Around 10.00 am you will have a private visit to Peyreras park which is located 75km from the capital in Marozevo. A small exotic reserve where you can see: chameleons, leaf tailed geckos, butterflies, lemurs. Your visit will take approx 45min. You will visit one of the practical insect and reptiles reserve owned by naturalist Andre Peyreras and follow up with Moramanga - where you can stop visit local people at the open market, before continuing up to Andasibe where you will arrive at approx 12.30pm. Lunch at Vakona Hotel Restaurant
Around 2pm the driver will take you to the private reserve of the hotel which is the home of different kinds of lemurs - including the famous Indri or Babakoto, crocodiles, the endemic carnivorous cat - called Fosa. The reserve belongs to the hotel Vakona Forest Lodge. You will begin your entry with the different reptiles and follow up with canoeing through the river before you join the different species of lemurs living in this private reserve.