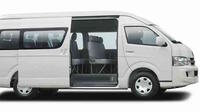 38 €
Florianópolis Airport Arrival Transfer to Hotel
Enjoy a smooth and hassle-free airport shuttle service between the Hercílio Luz International Airport and the city of Florianopolis.
It is easy to book, all drivers have excellent driving records and the vehicles in the fleet are less than 1 year old.

Choice of anytime throughout the day, pickup from the airport to the location of your preference. This shuttle is the ideal transportation option for tourists and passengers arriving to Florianópolis.
You will be guaranteed a comfortable and safe ride from Hercílio Luz International Airport to any suburb in Florianópolis.

The distance between the airport and your destination can vary. For example to down town will take 20 minutes and to the North Shore it will take 40 minutes approximately depending on traffic.

Because transportation services in Florianópolis are very limited, there are a lot of private owned cabs or cab companies at the airport. These charge very high fees per trip and do not provide quality service. With this service, you'll have a wonderful transportation option
to transfer you between the Hercílio Luz International Airport to any location in the city of Florianópolis.

We operates shuttle services since 2012 and this service can be operated on a Van or executive taxi, both owned by us and it's own drivers.