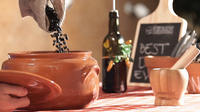 82 €
L'activité n'est pas disponible, essayez une autre recherche !
Flavors of Rio de Janeiro: Dinner and Cooking Class
Spend an evening creating and enjoying the flavors of Rio de Janeiro. Learn how to cook traditional Brazilian dishes with a local chef. Enjoy a delicious dinner during this small group tour.
Journey on a culinary adventure with a local chef. Travel from your central meeting point by subway on this small group tour. Reach your destination in time to sample some creative appetizers paired with a Caipirinha!
Learn the cultural uniqueness of each of the dishes that will be made and served. Experience a hands-on cooking class with a local chef. Apply those cooking techniques to create these traditional Brazilian dishes. Taste centuries of local history with some of the most iconic dishes of Brazil.
Time to sit down and indulge your taste buds. Featured in most homes, every Saturday afternoon, is the Feijoada. This is a traditional meat stew made with beans, beef and pork. Complete your culinary experience with a sweet finish, the Brigadeiro. It's a delicious chocolate truffle covered in sprinkles served at most celebrations. Enjoy the refreshing flavors of Cachaca, sugar and lime that make up your Caipirinha.