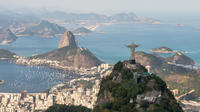 120 €
Christ the Redeemer and Sugarloaf Private Photography Tour
Visit the two iconic attractions of Rio de Janeiro in one day guided by a professional photographer in the comfort of a private tour and take home a digital album in high resolution as a memory to last forever.
Rio's postcard, elected one of the new seven wonders, Christ the Redeemer is an important symbol of the wonderful city. Crossing the Tijuca National Park we will reach the 710 meters mountain top where the beauty of the imposing 30 meters height monument can be revealed. The tour provides sights of the most beautiful landscapes of Rio de Janeiro.


Hallmark of Rio de Janeiro , over one hundred years the Sugar Loaf amazes its visitors with the breathtaking views of Rio de Janeiro . The Urca Mountain and Sugar Loaf are reached by cable car .
The first stretch goes from the Red Beach to Urca Mountain, covering a distance of 575 meters to a height of 220 meters above sea level where you have a beautiful view of Botafogo and the Guanabara Bay . There we can find restaurants, bars , shops and a cyber museum about the history of the cable car . You can also take a helicopter flight from the heliport installed on Urca Mountain.
The second section between Morro da Urca and the Sugar Loaf, the length is 750 meters, reaching 396 meters in height with 360C ° panoramic view of the city and its natural beauty . With a bar and some shops, the Sugar Loaf also provides an amazing sunset.