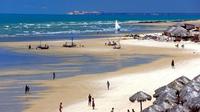 45 €
L'activité n'est pas disponible, essayez une autre recherche !
Canoa Quebrada-Morro Branco Day Trip from Fortaleza
Full Day Trip to Canoa Quebrada with a stop in Morro Branco from Fortaleza.

Transport along the Sunset Highway

Buggy ride along the beach and over the dunes 

Jangada boat ride with local fisherman

Parasailing over Canoa Quebrada

Horseback riding

Beach bars and restaurants
Your greeted in your hotels reception area and board an air conditioned mini-bus. The day trip begins along the Sunrise Coast, for 84 kms from Fortaleza to your first stop Morro Branco arriving approximately 09:30 A.M. 

Morro Branco : Internationally known for its multicolored dunes and cliffs that run the entire length of Morro Branco's beach. The surrounding area is within the protected zone of Parque Nacional das Falesias. To this day the village is populated by a small group of fisherman. The main attractions are the  buggy rides over the dunes and along the beach,  exploring the caves, and bathing in the natural springs.

 Your trip continues for 80 kms along the Sunse Highway from Morro Branco to Canoa Quebrada arriving approximately 12;30 P.M.

Canoa Quebrada: The most visited beach destination outside Fortaleza and for a variety of good reason.  Surrounded by some of Ceara Brazil's most spectacular scenery. Canoa Quebrada lies hidden between the towering dunes and red sand stone cliffs that protect it from the sea. A perfect place to enjoy the sun and sea breeze, while relaxing in one of the barraca (beach bar-restaurants). 

The trip begins its return at 4 P.M. heading back to Fortaleza where you arrive at your hotel between 18:30-19:00 horas.