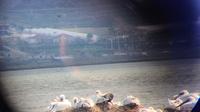 99 €
Birdwatching Albania
Albania is black in  birds during specially winter and spring. You  will love to see how much in the wild you can jump just one hour fifteen minutes form a big city like Tirana. This is the land of the Eagle, let's not forget, although eagles won't be much at sight where we're going this time.
It would be good we start early morning and be at the lagoons when the sun's not too high yet. That's the best to be done for birding. We'll be at different locations in  the lagoon and we'll see what we can get. The local rangers will provide us with a scope and eventually a binocular. On our side we can bring a big military one that was once used to watch out for the enemy (meant : you) but best is to have some good gear of yours.
Pick up at your hotel at 06h30 am (can change into earlier or later hours - please confirm with us directly). Drive for about 1h15 minutes and arrive at the lagoon where we'll meet a local ranger who will lead us to one of the nearby birdwatching towers. Spend about 2 hours at this location. Breakfast picnic to be consumed earlier.
At around 11 we'll drive in another location of the Lagoon and will go on a boat ride about 270 meters distance from the Pellican Island. Hoping the weather will be pleasent enough we'll make sure to spend an hour or more in  here.
After midday we'll receive our lunch made of local products and dishes. We reserve the right to drive you into a restaurant in case the weather is not promissing or if you're too tired.
After lunch a little digesting walk into the forest.
Drive back to Tirana. Arrive at your hotel at around 16h45' - 17h30'.
End of the tour.